CDS COMMENDATION
The following members have been awarded the Chief of the Defense Staff Commendation / Les membres suivants ont reçu la citation du Chef d'état-major de la Défense. 
Maj S.L. Goul
Maj J.M.F.R. Lafleur
LCdr M.C.D.J. Nadeau
Maj E.J.E. White
Capt M. Moreau
Lt(N) B.E. Salter
CWO J.L. Lefebvre 
Click here for citations / Clique ici pour citations
VCDS COMMENDATION
Congratulations to LCdr Brad Eason, MED, CFHSG member currently posted
in Germany, who received a VCDS Commendation on January 12th. Virtual presentation done by BGen Darlene Quinn, Commander Formation Europe/National Military Representative, Supreme Headquarters Allied Powers Europe (SHAPE). LCdr Eason's spouse was also in attendance. 
During the initial response to the  pandemic from March to May 2020, LCdr Eason worked tirelessly to resolve emerging and very complex medical issues affecting members posted throughout Europe. His medical advice, specific to each geographical area, was critical to the easing of restrictions and successfully assessing the medical threats that were pertinent within each region.
2020
ORDER OF CANADA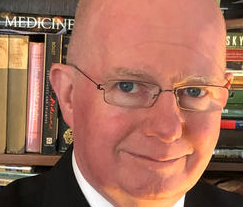 Congratulation to RCMSA member LCol (Ret'd) Vivian McAllister on his appointment by the Governor General as an Officer of the Order of Canada for his contribution to aad ledership in the military and civilian surgical communities.
MINISTER OF VETERANS AFFAIRS COMMENDATION
LCol (Ret'd) James (Jim) Popplow, CD, MD, MSc, FACPM, was awarded the Minist
er of Veterans Affairs Commendation for his involvement with the Royal Military Institute of Manitoba and the Royal Canadian Air Force Association. Jim is a Veteran, having served for 31 years with the Royal Canadian Air Force and the Royal Canadian Medical Service
He has been the Communications Officer with the Royal Military Institute of Manitoba for approximately ten years. In this role, he has established and maintains a comprehensive contact list of members, associates and affiliated organizations and disseminates the institute's advisories, policies, and events. He is responsible for all electronic communications, is the primary RSVP contact, and coordinates functions with affiliated organizations.
He has been a member of the Royal Canadian Air Force Association for over 50 years and served as Vice President of 500 Wing (City of Winnipeg) from 2017-2019. He has also been the Wing's Electronic Communications Coordinator for five years.
As a member of the Board of Governors of Commissionaires of Manitoba since 2012, he oversees Commissionaire activities and helps promote their mandate of providing meaningful employment for Veterans.
He served on the Veterans Ombudsman Advisory Council from 2011-2019 and as the Honorary Colonel of 16 (Regina) and 17 (Winnipeg) Field Ambulance from 2006 to 2012."
CANADIAN MEDICAL ASSOCIATION JOHN MCCRAE MEMORIAL MEDAL / MÉDAILLE COMMÉMORATIVE JOHN MCCRAE DE L'ASSOCIATION MÉDICALE CANADIENNE
Colonel (Retired) Dr. Ian Anderson is the 2020 recipient of the CMA  John
McCrae Memorial Medal in recognition of his exemplary service as a clinical health service member of the Canadian Armed Forces.
Le Colonel (retraité) Dr Ian Anderson est le lauréat 2020 de la Médaille commémorative John McCrae de l'AMC en reconnaissance de son service exemplaire en tant que membre des services de santé clinique des Forces armées canadiennes.
CHIEF OF THE DEFENCE STAFF (CDS) COMMENDATION / LA MENTION ELOGIEUSE DU CHEF D'ETAT-MAJOR DE LA DEFENSE 
Congratulation to MGen Jean-Robert Bernier, OMM, CD, and CWO Geoffery, MMM, CD on being awarded the CDS Commendation
MGen Bernier's award is for superb leadership, outstanding professionalism and deep personal commitment as Chairman of the NATO Chiefs of Medical Services. (COMEDS). MGen Bernier is a former Surgeon General and Commander CFHSG.
CWO Geoffroy's award is for exceptional leadership and tireless dedication s CWO JTF-Iraq deployed to Kuwait. He is a Physician Assistant and former CFHSG CWO and currently serves a Special Appointment CWO
Félicitations au Mgén Jean-Robert Bernier, OMM, CD et Adjuc Geoffery, MMM, CD pour avoir reçu la Mention élogieuse du Chef d'état-major de la Défense.
Le prix du Mgén Bernier est décerné pour son leadership exceptionnel, son professionnalisme exceptionnel et son profond engagement personnel en tant que président des chefs des services médicaux de l'OTAN. (COMEDS). Le Mgén Bernier est un ancien médecin-chef et commandant du GSSFC.
Le prix de l'Adjuc Geoffroy est décerné à l'Adjuc Geoffroy pour son leadership exceptionnel et son dévouement inlassable s L'Adjuc JTF-Iraq a été déployé au Koweït. Il est adjoint au médecin et ancien adjuc du GSSFC et occupe actuellement un poste d'adjuc à nomination spéciale.
CAF RECOGNITION DAY IN THE HOUSE OF COMMONS 2019
REF: CANFORGEN 033/19 011411Z MAR 19
IT GIVES ME GREAT PLEASURE TO ANNOUNCE THIS YEAR S DESERVING SERVICE PERSONNEL SELECTED FOR THE CAF RECOGNITION PROGRAM, TO TAKE PLACE IN THE HOUSE OF COMMONS FROM 12 TO 15 JUNE 2019
THE SELECTED PERSONNEL ARE:
RCN: 1. MS S.S.S. BOPARAI, MARPAC HQ, ESQUIMALT, BC 2. LT(N) A.M. MURRAY, HER MAJESTY S CANADIAN SHIP CHARLOTTETOWN, HALIFAX, NS
CA: 1. SGT M.M.M. DUCHESNEAU, 35 CBG HQ, QUEBEC, QC
RCAF: 1. WO M. MEYER, 426 (T) TRG SQN, TRENTON, ON
CANSOFCOM: 1. CPL J.S. CHAMPION, CANSOFCOM HQ, TRENTON, ON
CMP: 1. CPL G. PIGOTT, 12 FD AMB, VANCOUVER, BC
CONGRATULATIONS ARE EXTENDED TO ALL SELECTED MILITARY PERSONNEL
LA JOURNEE DE RECONNAISSANCE DES FAC A LA CHAMBRE DES COMMUNES 2019
IL ME FAIT GRAND PLAISIR D ANNONCER LES NOMS DES MILITAIRES MERITANTS QUI ONT ETE CHOISIS POUR PARTICIPER A LA JOURNEE DE RECONNAISSANCE DES FAC QUI EST PREVUE AVOIR LIEU A LA CHAMBRE DES COMMUNES DU 12 AU 15 JUIN 2019
LES MILITAIRES SELECTIONNES SONT LES SUIVANTS:
MRC: 1. MATC S.S.S. BOPARAI, QG FMAR(P), ESQUIMALT, BC 2. LTV A.M. MURRAY, NAVIRE CANADIEN DE SA MEJESTE CHARLOTTETOWN, HALIFAX, NS
AC: 1. SGT M.M.M. DUCHESNEAU, QG 35 GBC, QUEBEC, QC
ARC: 1. ADJ M. MEYER, 426 EET, TRENTON, ON
COMFOSCAN: 1. CPL J.S. CHAMPION, QG COMFOSCAN, TRENTON, ON
CPM: 1. CPL G. PIGOTT, 12 AMB C, VANCOUVER, BC
FELICITATIONS AUX MILITAIRES SELECTIONNES
MERITORIOUS SERVICE MEDAL/MEDAILLE DU SERVICE MERITOIRE
CDR M.E. THOMSON – FOR UNWAVERING PROFESSIONALISM AS THE COALITION MED LO AND PRIMARY REP TO THE IRAQI PRIME MINISTER S NATL OPS CENTRE, BAGHDAD, JUN 17 TO JUN 18
CAPF M.E. THOMSON – POUR SON PROFESSIONNALISME INEBRANLABLE A TITRE D OL DES SOINS DE SANTE DE LA COALITION ET DE REP PRINCIPAL DU C OPS NATL DU PREMIER MINISTRE IRAQUIEN, BAGDAD, DE JUIN 17 A JUIN 18
CDS COMMENDATION/MENTION ELOGIEUSE DU CEMD
CDR A.G. HALEY – FOR EXCEPTIONAL LEADERSHIP AS THE RCN SURG IN THE REVISION OF CF H SVCS GP INSTR, 3100-23 MED ADMIN OF PREGNANT MBRS, OTTAWA, ON, FEB 16 TO AUG 17
CAPF A.G. HALEY – POUR SON LEADERSHIP EXCEPTIONNEL EN QUALITE DE MED C MRC DURANT LA REVISION DE L INSTRUCTION 3100 23 DU GP SVC S FC, ADMINISTRATION MEDICALE EN CAS DE GROSSESSE, OTTAWA, ON, DE FEV 16 A AOUT 17
2018
Meritorious Service Medal/ Medaille du Service Meritoire 
Major J C. Rossi – For leadership, professionalism  and dedication as line effort 5 Comd for the TF and the Senior NATO Mo in Ukraine. August 2016 to February 2017 (Now LCol at CF H Svcs C (O))
MAJ C. ROSSI – POUR SON LEADERSHIP, SON PROFESSIONNALISME ET SON DEVOUEMENT A TITRE DE CMDT DE LA LIGNE D EFFORT 5 DE LA FO ET DE MM PRINCIPAL DE L OTAN EN UKRAINE, D AOUT A FEV 17
CDS Commendation/Mention Elogieuse du CEMD
MWO J.D. Gallant – For  exemplary leadership, devotion to duty and expertise as the TF SM and Command Team Member during OP SIRONA, Sierra Leone, December 2014 to May 2015 (Med Tech 42 CF H Svcs C)
ADJUM J.D. GALLANT – POUR SON LEADERSHIP EXEMPLAIRE, SON DEVOUEMENT AU SERVICE ET SON EXPERTISE A TITRE DE SM FO ET MEMBRE DE L EQUIPE DE COMD DURANT L OP SIRONA, SIERRA LEONE, DE DEC 14 A MAI 15
Quebec College of Physicians 2016 Humanitarianism Award
The Quebec College of Physicians 2016 Humanitarianism Award was presented to Dr (Maj Rtd) Marc Dauphin. The awarded is presented annually to a member who, through his or her social commitment, embodies the values of humanism advocated by the College and whose actions contribute to the well-being and development of its patients, community or community. Click here to learn more.
Surgeon General Clinical Coin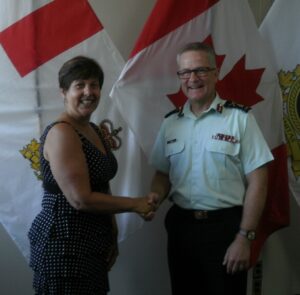 The 79th Surg Gen Clinical Coin was presented to Ms Suzanne Laroche by BGen Colin MacKay August 2 2016 for her outstanding dedication to the CFHS for going above and beyond established expectations as the Senior Practice Leader (SPL) Nurse Practitioner CF HSvcs C (A) in providing exceptional support and technical guidance to all levels of CF H Svcs Gp.
RCMS Med Techs Earn Commendation

Sgt Yann Gauthier (rear row far right) and MCpl Jennyfer Russell (front row second from the right) earned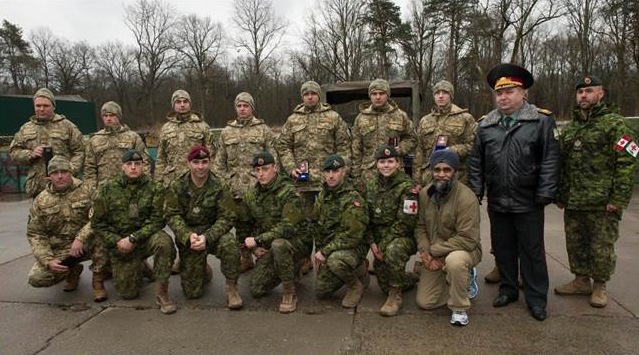 commendations from the Ukrainian Minister of Defence for their outstanding contributions as medical instructors to Operation UNIFIER. Colonel General Stepan Polterak, Ukrainian MND, made the presentations personally while the Canadian MND, The Hon Harjit Singh Sajjan, MP, watched on.
Sgt Yann Gauthier (rangée arrière extrême droite) et le Cplc Jennyfer Russell (première rangée deuxième à droite) a obtenu des éloges du ministre ukrainien de la Défense pour leur contribution exceptionnelle à titre d'instructeurs médicaux à l'opération UNIFIER. Colonel général Stepan Poltorak, MDN ukrainien, a fait les présentations personnellement alors que le MDN canadien, L'hon Harjit Singh Sajjan, MP, regardé sur.
Order of Military Merit
Colonel David Weger, Canadian Forces Health Services Group Headquarters and Colonel  Danielle Savard  were invested as Officers of  the Order of Military Merit (OMM) and Sergeant Tim Ferguson,  by His Excellency the Right Honourable David Johnston, Governor General and Commander-in-Chief of Canada, at Government House, Ottawa, November 1o, 2015.
Former Commander CFHS to Receive Honorary Doctorate of Laws
MGen (Retired) Lise Mathieu will receive an honorary doctorate of laws for her work in transforming Canadian Forces Health Services (CFHS) at the Royal Roads University (RRU) fall convocation, November 10, 2015., is being honoured after a 31-year career in the Canadian Forces that included being named a Commander of the Order of Military Merit.
MGen Mathieu was instrumental in moving the CFHS from the tradition model of the military having everything of its own to an integrated system that was more responsive to their needs and working with larger community partners. She has also been involved in the RRU post-graduate leadership program.
RCMS Association Top Student Award Recipients
We acknowledge and congratulate the first recipients of the RCMS Association Top Student Award presented to the top student on the CFHSTC QL6A Medical Technician Course. The trophy is be presented to the student who has displayed both the best overall performance and the traits that best reflect that of an aspiring Senior NCO.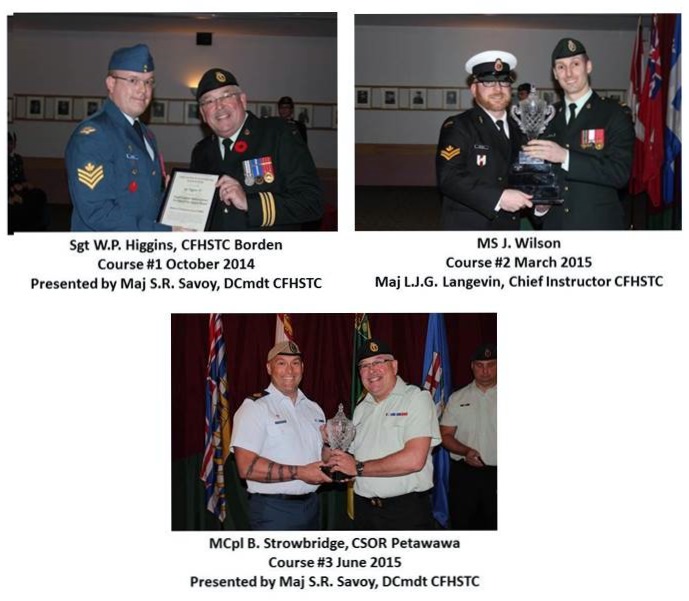 Aerospace Medical Association's Theodore C. Lyster Award
Captain (N) Chris Brooks a retired medical officer who had a full and successful career in the Canadian Forces Medical Service will be awarded the Aerospace Medical Association's Theodore C. Lyster award at their May meeting. It is awarded annually for outstanding achievements in the general
field of aviation medicine. He will join two other very distinguished Canadians who have received this award since 1947. Click here to view list of all Aerospace Medical Association award recipients. 1948—Wilbur R. Franks, M.D. 2011—Gary Gray, M.D., Ph.D. Click here to learn more about the Aerospace Medical Association
AMSUS Rehabilitation Award
The Canadian Forces Health Services was recognized for excellence by the Association of Military Surgeons of the United States on December 4th, 2014. Lieutenant-Colonel Markus Besemann, the Canadian Armed Forces Chief of Rehabilitation, was awarded their esteemed Rehabilitation Award for his medical contributions to the discipline since 2008. This is the first time a Canadian has been awarded such an honour and Brigadier-General Jean-Robert Bernier, Surgeon General, is very proud of his accomplishments. AMSUS, also known as the Society of Federal Health Professionals, is the premier association supporting and representing all healthcare disciplines and serve in the Active and Reserve Components of all of the uniformed services, as well as the Department of Defense and the Department of Veterans Affairs out of Bethesda, Maryland.

National Remembrance Day Vigil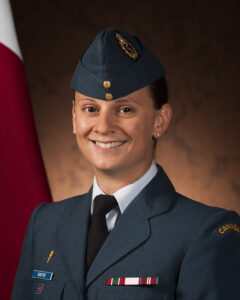 Captain Brigitte Barthe, Canadian Forces Health Services Centre Atlantic in Halifax, Nova Scotia was the Nursing officer who represented the Canadian Forces Health Services Group and supported the four sentries during the National Remembrance Day Vigil.  Created in 1998, the Remembrance Day Sentry Program recognizes outstanding Regular and Reserve Force sailors, soldiers, and aviators of the CAF, and a member of the RCMP, for their dedication, professionalism and performance.  Participation in this program is a unique experience for those selected.   La capitaine Brigitte Barthe du Centre des Services de santé des Forces canadiennes (Atlantique) à Halifax, Nouvelle Ecosse, était l'Infirmière militaire qui a représenter la Groupe des Services de santé des Forces Canadiens et appuyait les quatre sentinelles pendant le vigil du jour du souvenir nationale.  Créé en 1998, le Programme des sentinelles du jour du Souvenir récompense des soldats, marins et aviateurs, hommes et femmes, de la Force régulière et de la Force de la réserve des FAC, ainsi qu'un policier ou une policière de la GRC pour leur dévouement, leur professionnalisme et leurs réalisations remarquables. Participer au Programme s'avère une expérience unique pour ceux qui ont été choisis.
Canada's 2014 National Remembrance Day Vigil : (front row) MS Carrie Pink, RCN Sentry; Capt Brigitte Barthe, Nursing Officer CF H Svcs Gp; PO2 Allison Tilley, Sentry Commander; Cpl Francois Dugas, CA Sentry; (back row) WO Eric Leclair, Special Guest of the Chief of the Defence Staff; MCpl Adonai Mzgubu, RCAF Sentry; Constable Jonathan White, RCMP Sentry. Le Programme des sentinelles du jour du Souvenir, édition 2014 : (en avant) mc Carrie Pink, MRC Sentinelle; capt Brigitte Barthe, Infirmière militaire Gpe Svcs de s des FC; m2 Allison Tilley, Commandant des Sentinelles; cpl Francois Dugas, Sentinelle d'AC; (en arriere) adj Eric Leclair, Invité spécial du chef d'état-major de la Défense; cplc Adonai Mzgubu, Sentinelle CARC; agent de police Jonathan White, Sentinelle GRC.
Ontario Premier's Award 
Capt (N) Rebecca Patterson, Comd 1 HSG, has received the Ontario Premier's Award for Ontario College Graduates, in the category of Health Sciences. The Premier's Awards recognize the tremendous contributions Ontario's college graduates make to the success of the province and beyond. A decorated officer, Capt (N) Paterson commands all military medical units from northern Ontario to British Columbia and the Arctic. She oversaw the care for the Canadian Forces' ill and injured during conflicts in the Persian Gulf, Croatia, Bosnia and Rwanda. She also led the multinational team that designed a military medical education system for Afghanistan.
Spartan Athlete
Captain Carolyn Gaboury, Staff Officer to the Deputy Commander of the CF H Svcs Gp, is an ardent Spartan athlete.  Spartan races combine distance running with rough terrain and obstacles much like those found on a military confidence course.  Carolyn recently achieved a significant goal by completing a double trifecta of races including 5 km sprints, 13 km races  and the gruelling 20 km "Beast" which has 26 challenging obstacles along the way!  The double trifecta medal recognises Carolyn's superb efforts in completing not one of each race this year but TWO of each race.  Asked why she got into Spartan racing Carolyn answered, "At first I was volunteering as a dispatcher for
first aid and medical support to injured runners… then I got curious and tried a race… now, I'm hooked!"  If she isn't competing, Carolyn is still volunteering as a medical dispatcher.  For more information on Spartan racing go to http://ca-en.spartanrace.com/events En francais: Le capitaine Carolyn Gaboury, officier de l'état-major pour le commandant adjoint de le Gp Svcs de S des FC, est un athlète ardent de Spartan.  Les  cours de Spartan sont un combinaison de distance sur terrain difficile et  des obstacles comme ceux trouver sur une piste de confiance militaire. Carolyn a achevé un but important par le finis d'une trifecta des cours incluaient des sprint de 5 km, des cours de 13 km et l'exténuant 20 km avec 26 obstacles sur la route!  La médaille double trifecta reconnaitre les  efforts superiore de Carolyn en complétaient, pas une de chaque cours cette  année mais DEUX de chaque cours.   Suivant d'une demande comment elle a  choisi les cours Spartan, Carolyn à répondre, <<Aux commencement j'étais  bénévole comme répartiteur de premières soins et les équipes médicaux… puis  j'ai devenu curieux et j'ai essayé un cours… maintenant je suis fanatique!  Si elle n'est pas dans le cours, Carolyn est encore bénévole.  Pour plus  d'information des course Spartan voyez :  http://ca-fr.spartanrace.com/events
Father in the Role 3, son outside the wire
By Major Nicole Meszaros
OTTAWA- "She was very supportive of both of us being over there but it was tough on her so we didn't tell her all of the stories until much later on," said Dr. Stewart Hamilton, MD, of his wife Mrs Julie Hamilton, referring to his tour of duty as a civilian trauma surgeon at the Role 3 Multinational Medical Unit at Kandahar Airfield (KAF), Afghanistan in 2008. Dr. Hamilton is a Fellow of the Royal College of Physicians and Surgeons, Associate Zone Medical Director and Co-Facility Medical Director, University of Alberta Hospital. His son, Sergeant Chris Hamilton, a combat engineer, who presently serves at 1 Combat Engineering Regiment, was deployed there at the same time.
As a trained trauma surgeon, Dr. Hamilton felt that bringing his skills to the war zone was important as he could make a meaningful contribution to Canadian soldiers, allied forces, and Afghans. "It is the ultimate trauma surgery experience working in that type of environment. The case load was interesting, surgically challenging, and presented a fulfilling opportunity to apply my skills and knowledge. The opportunity to work with and experience the professionalism of our men and women in uniform was a major aspect of my experience in KAF," said Dr. Hamilton.
As it so happened, while Dr. Hamilton was working as part of the team in the Role 3, his son was 'outside the wire' as part of 1 Combat Engineering Unit but attached to the Princess Patricia's Canadian Light Infantry. The father and son duo did not have contact in Afghanistan until Sgt Hamilton was rotating out of KAF, but Dr. Hamilton notes that three of his son's troop mates were killed, one of whom was a close personal friend, and that his son did not come into the airfield for the ramp ceremony because he was out on operations.
After being in KAF for several weeks Dr. Hamilton was walking near Canada House and heard his name called. "I turned and saw my son with three or four of his fellow combat engineers looking very large with all their equipment on. They had been part of a convoy that had been bombed, losing another soldier to an improvised explosive device. They were tanned, a bit grimy and very happy to be in KAF."
Dr. Hamilton had a few days in KAF to spend with his son, which included a tour of the Role 3 before he left for Cyprus a few days after this encounter. By the end of September Mrs. Hamilton's son and husband had both repatriated safely back to Alberta.
Dr. Hamilton explained that civilian surgeons, all members of the Royal College of Physicians and Surgeons, were able to deploy to Afghanistan in part because the Royal College and the Canadian Armed Forces have a long-standing and solid relationship of trust and respect. "There were no roadblocks to deploying. My colleagues covered my surgery practice; and the hospital and University of Alberta were supportive in every way of my deployment," said Dr. Hamilton.
The Dominique-Jean Larrey Award was awarded to Canada for its establishment and command of the NATO Role 3 multinational medical unit at Kandahar airfield, Afghanistan, from 2006 to 2009. It is the highest honour for medical support that NATO bestows and is awarded in recognition of a significant and lasting contribution to nato multi-nationality and/or interoperability or to improvements in the provision of health care in NATO missions within the areas of military medical support or military healthcare development.
"The Larrey award speaks to The Royal Canadian Military Services' accomplishments because under the Canadian Armed Forces' leadership, casualties who made it to the Role 3 with vital signs present had a 98 per cent SURVIVAL, which was absolutely remarkable."
Un père dans une Unité de rôle 3, un fils à l'extérieur du périmètre
Par le major Nicole Meszaros
OTTAWA – « Elle soutenait ardemment notre présence à tous les deux là-bas, mais c'était difficile pour elle, et c'est donc seulement beaucoup plus tard que nous lui avons tout raconté », a indiqué le Dr Stewart Hamilton, au sujet de sa femme, madame Julie Hamilton, en parlant de son expérience comme chirurgien traumatologue civil en 2008 au sein de l'Unité médicale multinationale de rôle 3 à l'aérodrome de Kandahar, en Afghanistan. Le Dr Hamilton est associé du Collège royal des médecins et chirurgiens du Canada, directeur médical adjoint de zone et codirecteur médical d'installation, à l'Hôpital de l'Université de l'Alberta. Son fils, le sergent Chris Hamilton, un sapeur de combat, qui sert actuellement au sein du 1er Régiment du génie de combat, était en mission là-bas au même moment.
En tant que chirurgien traumatologue dûment qualifié, le Dr Hamilton sentait qu'il était important pour lui de mettre ses compétences à profit dans la zone de guerre puisqu'il pouvait apporter une contribution importante à l'intention des soldats canadiens, des forces alliées et des Afghans. « Travailler dans ce type de milieu constitue une expérience ultime en matière de chirurgie traumatologique. En plus d'être intéressante et stimulante sur le plan chirurgical, la charge de travail m'offrait l'occasion de mettre à contribution mes compétences et mes connaissances. Cette occasion de travailler avec nos militaires, hommes et femmes, et de constater leur professionnalisme a constitué un aspect important de mon expérience à l'aérodrome de Kandahar », a dit le Dr Hamilton.
Tandis que le Dr Hamilton travaillait comme membre de l'équipe de l'Unité de rôle 3, son fils, qui était affecté au Princess Patricia's Canadian Light Infantry, était à l'extérieur du périmètre avec la 1re Unité du génie de combat. Le père et le fils se sont rencontrés en Afghanistan seulement au moment où le sgt Hamilton était sur le point de quitter l'aérodrome de Kandahar, et le Dr Hamilton indique que trois des camarades de son fils ont été tués, dont l'un était un ami personnel proche, et que son fils n'était pas présent à la cérémonie d'adieu à l'aérodrome parce qu'il prenait part à des opérations.
Quelques semaines après son arrivée à l'aérodrome de Kandahar, alors qu'il marchait à proximité de la Maison du Canada, le Dr Hamilton a entendu quelqu'un qui l'appelait. « Je me suis retourné et j'ai vu mon fils accompagné de trois ou quatre autres sapeurs de combat qui m'ont semblé très imposants compte tenu de tout l'équipement qu'ils portaient. Ils avaient participé à un convoi qui avait fait l'objet d'un bombardement et dont un des soldats avait été tué par un dispositif explosif improvisé. Ils étaient bronzés, quelque peu poussiéreux et très contents d'être à l'aérodrome de Kandahar. »
Le Dr Hamilton a pu passer quelques jours à l'aérodrome de Kandahar avec son fils, qui a notamment pu visiter l'Unité de rôle 3 avant de partir pour Chypre. À la fin de septembre, le fils et le mari de madame Hamilton avaient été rapatriés en toute sécurité en Alberta.
Le Dr Hamilton explique que les chirurgiens civils, qui sont tous membres du Collège royal des médecins et chirurgiens du Canada, ont pu se rendre en Afghanistan notamment parce qu'une relation durable et solide de confiance et de respect existe entre le Collège royal et les Forces armées canadiennes. « Il n'y a eu aucun obstacle. Mes collègues se sont occupés de ma pratique, et tant l'Hôpital que l'Université de l'Alberta m'ont pleinement soutenu, » a déclaré le Dr Hamilton.
Pour avoir mis sur pied l'Unité médicale multinationale de rôle 3 de l'OTAN à l'aérodrome de Kandahar et l'avoir commandé de 2006 à 2009, le Canada a reçu le prix Dominique-Jean Larrey. Cette récompense, qui est le plus grand honneur accordé par l'OTAN pour du soutien médical, vise à souligner une contribution importante et durable au multinationalisme et/ou à l'interopérabilité ou encore à l'amélioration des soins de santé offerts au cours de missions de l'OTAN dans le domaine du soutien médical militaire ou du développement des services de santé militaires.
« Le prix Larrey témoigne des réalisations du Service de santé royal canadien, puisque sous le commandement des Forces armées canadiennes, le taux de survie des victimes qui avaient des signes vitaux au moment de leur arrivée à l'Unité de rôle 3 a été de 98 p. 100, ce qui est absolument remarquable. »
Order of Military Merit

Colonel Kristiana Stevens, Reserve Advisor, Canadian Forces Health Services Group Headquarters, was invested as an Officer of  the Order of Military Merit (OMM) by His Excellency the Right Honourable David Johnston, Governor General and Commander-in-Chief of Canada, at Government House, Ottawa, June 20, 2014.
RCMS-SSRC Ottawa Reunion
More than forty former CFMS members and friends gathered at the Barrhaven Legion on Friday, May 30, 2014 for an informal reunion luncheon organized by Denis Pilote and Ed Arvisais
Karen Bailey: War Artist
During the Canadian mission in Afghanistan an artist, Karen Bailey, was sent to the Roles 3 Multinational Medical Unit (R3 MMU) through the DND war artist program. She created a series of paintings which have been purchased by a collector; however they can also be viewed through the following link to her web site: http://www.karenbailey.ca . The Afghanistan link on the left hand side will bring people to images of the paintings, she also has a book called TRIAGE, for which there is a link as well.
Of most recent interest is that her works from Afghanistan have inspired an Australian group, The School of Music Poets of Canberra, to write poems which are included in a collection called "In Response to Triage". http://sompoets.wordpress.com/projects/response-to-triage/